That's right! TGFIO - Thank God February is Over! So here is my February post about my dad.
Recently, Reese's started working on a scrap book, one of those fancy "Smashbook" ones. She loves doing stuff like that . . . her mom (me) . . . uh, not so much. The scrapbook she made is very artistic and absolutely adorable. I do not have the patience for it though.
Anyway, during the course of her looking for old photos and "things" to go in this scrapbook, we opened a long closed trunk that I have all my little memory trinkets saved in.
For example, all the cards and letters from my grandparents (when they were alive). Back in the day before the internet people actually wrote letters to each other. So I have all of those. The actual baby food jar from Reese's and Skittles very first jar of solid baby food. Washed out of course.
I am kind of a sentimental person. So I thought I would take some pictures and share some of these with you.
But my most prized of these trinkets are the letters from my dad. I have about five or six of these letters and they are worth more than gold to me. They make me "tear up" when I read them, and well here they are.
Now you have to understand that my dad had Parkinson's disease, and the last few letters had to be typed because he could no longer write with a pen or pencil. His "tremor" was in his arm. It started at his thumb, progressed to his wrist, and then to his elbow. He was taking medicine for the tremors but the side effects I believe were worse than the tremors.
This one Lollipop typed when she was only six years old. This was only a couple of months before the accident, and he typed his letter on the bottom of this sheet that she had been playing with when she was at their house for a visit.
The Parkinson's disease is not what caused my dad's death, it was a car accident. Single car and no one else was hurt. The tremors could have had something to do with the accident, but we will never know that.
At my first wedding, my father walked me down the aisle, and actually told me in the foyer before the music started that we didn't have to go through with it if I didn't want to. We could go out the side door and he wouldn't let anyone say anything to me about it if that's what I wanted. My first husband and I were both very young and I am sure my father knew we didn't know what we were doing. But I told him "No, to go ahead and walk me down the aisle."
So the second time I got married, my dad wasn't very happy about it and he didn't come to the wedding. My mom came to the wedding, and took Lollipop and Tootsie Pop home with her while we were gone on our honeymoon (for the weekend). So I had to walk down the aisle alone the second time.
In the letters, after Skittles is born, my father tells me that he "approves" of my new little family and especially of Skittles. This letter starts Dear (our names) and "that cute kid" . . .who was Skittles. Who he only got to see once or twice before the accident.

My dad died in February of 1991 when Skittles was only ten months old. I miss him most of all in February, even more than Christmas or even Father's Day. I remember what it felt like to drive all the way to Kentucky with little bitty Skittles in a car seat in the back of my black Ford Probe.
I remember going to the body shop to see my dad's car at night. I remember going to the accident site and I remember my sweet Santa, renting a car hauler to bring us back home to Arkansas when everything was over, because he didn't want me to drive.
Every February like clock work I know all these memories are going to flood back in, and some years I dread having to relive them, but this year, I welcomed them back in. If you have recently lost a loved one, I am so, so sorry for your loss.
Things will be better. . but not just yet.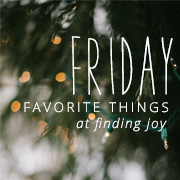 Thankful for these memories and for Rachel Martin's blog this week!