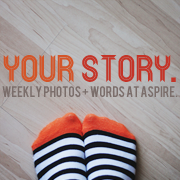 Link up and check out more great stories at Aspire.
You can share your story over at Hannah's blog, Aspire. It's not all about the ratings or the numbers . .. it's about telling your story. So check it out, you'll be glad you found a new place to call home.

I had asked some of you wonderful readers for prayer a few weeks ago and I am still asking for prayers. But I think I can tell you a little bit about what is going on.
but . . .
at Santa's company we had some layoffs.
(2010 Christmas Party RIS Gang)
If you are a new reader, Santa has a small computer software company. THIS is the whole crew at last year's Christmas party. I am in the front row crouching down with our beautiful grand-daughter Starburst!
It is such a horrible thing to have to tell someone that you can't keep them. I would much rather fire someone (which I hate to do) than to let someone go.
But with all the store closings, it was bound to affect us sooner or later, it was just later for us.
The amazing part was one of our longest employees volunteered to go.
(R. and her husband from last year's Christmas party)

How awesome is that?
As much as Santa tried to convince her we could let someone else go instead, she insisted and it really did help our situation out.
It doesn't make it any easier though.
I am still feeling all different emotions over this whole thing.
Relief that the financial situation is better. . . .
sadness that my friend isn't down the hall anymore . . .
anxiety for the future . . .
bitterness at the economy. . . .
all rolled up into what will probably be a future ulcer.
Things were already weird because Starburst quit to stay at home with Jar, and I miss seeing her every day. But when you work with someone for more than 15 years, and you see that person every work day, it's hard when they are not there anymore.
Skittles and Reese's started picking up the slack in between college classes . . . which is also weird.
Today (actually last week, since this is Saturday's post) Santa announced no Christmas party this year.
It is very sad.
Our Christmas parties have been the highlight of the year. We play games to win fabulous prizes . . . like a big screen TV or a Wii game console. FABULOUS prizes. We eat and . . . well I guess we "used to" eat and play games for prizes and everyone got a prize, some were better than others. But no one went home empty handed.
Not the run-of-the-mill Christmas ham office gift and same old office party every year. Santa always had just as much fun shopping for these prizes and coming up with new games as our crew did playing and winning!
While Santa has started working on a new business venture I feel myself having some of the "I-don't-cares" creeping in. He is optimistic for the future, and has turned it over to God to handle the details . . .
well. . . .
I know I have to trust that God's timing is ALWAYS perfect, it's always doubt and fear that rise to the surface and rear their ugly heads.
So yes, I am still trusting God . . . I will never stop . . . but I can't help but feel all these mixed emotions.
I want to be able to tell you the "praise story" that goes with this one . . .
because
it's
going
to
blow
you
all
away
. . . we just aren't there yet.
So yes, please keep praying . . . and thanks for reading.