http://www.smuckers.com/Recipes/Details.aspx?recipeID=4194

I saw this on pinterest and thought I would try it out. This is the new cookie for this year's Thanksgiving cookie-thon! It's an Angel Food cake mix and strawberry jam mixed together with some mini chocolate chips thrown in. They are kind of marshmallow-y in texture, but they are fruity and tasty. I am switching to the regular jam instead of the sugar free kind to see what happens. I'll let you know how they turn out.


Chocolate Crinkles are always a favorite.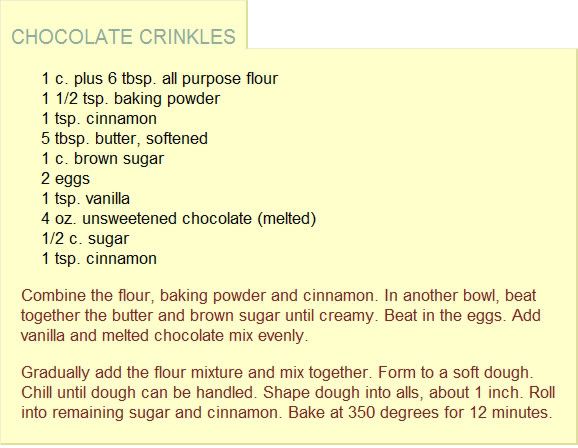 These little chocolaty bites just melt in your mouth. Mmmmm!
Added to the list this year are Oatmeal Scotchies and of course, my famous Chocolate Chip, which is the famous Nestle' Toll House recipe but I use MILK chocolate chips instead of semi-sweet and I use pecans for the chopped nuts. They disappear pretty quick! I also have a "kitchen sink" cookie, which is a chocolate chip cookie base, but with a variety of different chips all mixed together.
(Yeah, I know these shots are from the last cookie-thon. But I am posting this in advance . . . I'm a busy girl this time of year.)