These shots remind me of that old "hoax" photo of the fairies that someone took in England a long time ago. . . . do you remember? The Cottingley Fairies?
http://en.wikipedia.org/wiki/Cottingley_Fairies

Okay, well not exactly, but you see what I mean? These are some of the shots from the double senior photo shoot I did Sunday . . . this isn't even close to all the outfit changes and location changes we did.
I had so much fun! These two gorgeous models are actually related. They are cousins and they are both graduating in May from high school. They decided to take some pictures together too, while we were doing their senior pictures. Fun right?
Plus I got to lay in the middle of the road, for this shot! I don't usually get to do fun stuff like that, but Sunday I did!!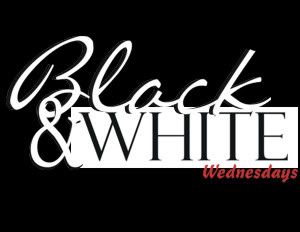 Be sure to link up your black and white beauties today. Grab a button from the side bar so others will know where you are linking up. The best part is checking out other great black and white shots from other photographers.