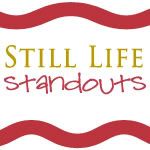 This was taken of the flowers in the pot beside my swimming pool in our back yard. However, since we have had so many 100 degree days, these impatiens are long gone. But this little guy is captured forever because of my new camera.
Desperately searching for something to snap at after work one day, I saw these!
Check out some really OUTSTANDING shots by clicking the "Still Life Standouts" button above.