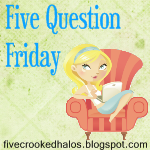 1. Did you make any fun purchases this week?
I bought a print of my sweet Little Bit to hang in my hallway . . . that was fun!

2. If you could go to any musical concert, what would it be?
Red (probably) or maybe Chris August
3. What is your least fav/ most fav house chore?
Least favorite is cleaning bathrooms . . . most favorite. . . is there such a thing? The one chore I hate the least ? I guess laundry.
4. Would you prefer new appliances or clothes?
I'm not in a big "shopping" mode right now. . . I got my bday present early so I'm kind of maxed out on getting stuff right now.
Are you thinking of buying me something? Clothes is your best bet . . .or shoes! I don't want appliances for a gift, normally. I would take a new ice machine though. Ours has been broken for years.
5. Miracle Whip or Mayo?

Mayo . . .
Miracle Whip is too sweet for me!! My ex used to eat Miracle Whip on toast with practically EVERY meal! Yuck!
Jump on board and hop along with Five Crooked Halos today!