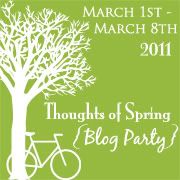 Maybe I am late, but I don't care. Join in the blog party by clicking the button above.
How would people describe your personality? (If they could only use ONE word.) Are they right?
You go ahead give it a shot, one word. . .


What celebrity/celebrities would create a "Star-Struck" feeling if you saw them in real life?
I'm just not a "star-struck" kind of person. Although, I think it would be cool to meet Robert DeNiro.
Who is your favorite blogger? Why?

This one is tough. I guess it would be Daughter of I Am, you should check out her blog, it will inspire you!
What is your comfort food/drink?



Coffee. . . definitely.
(And yeah, I love McDonald's coffee. . . we live in the boonies, no Starbucks, no Caribou, no Dunkin . . . so McDonald's it is.) Actually ANY COFFEE, ANYTIME, from ANYWHERE is good for me.
Be brave – tell us something very random and weird about yourself.
When I was born my left foot was turned somehow almost backward. I had to wear a bar with my shoes bolted to it when I was a baby, and corrective shoes growing up . . . kind of like Forest Gump without the leg braces.

Do you have a strong desire to do something you've never done? What is it?

Bowl a 300! LOL!!!!!

Movies: Action, Drama, Romantic Comedy, Documentary, Comedy? What are your favorite genres?

Not documentary, normally. Thrillers top the list. Twisted suspenseful surprise ending, thought provoking engrossing movies are the best. Comedies . . . even stupid ones, just to be entertained for a while.

Books: Fiction, Non-Fiction, Romance, Biographies, True Stories, Self-Help, Devotional/Study? What are your favorite types of reading material?
Reading? Not a big fan, Biographies or true stories are my fav's. Devotional/Spiritual would be top on the list. I read my Bible every day.
Music: Funk, Rock, Country, Jazz, Classical, Film Score, Blues, Classic Rock, Crooner, Alternative, Heavy Metal, Techno? What are your favorite types?
I consider myself a pretty well rounded listener of music. BUT . . . NO COUNTRY! Not a country fan (too whiney for me, or too out there with the latest ladies tying up their guys . . .uh no.) I listen to a lot of Christian music.
If you inherited a million dollars, what is the first thing you would do with your money?
Buy a gumball machine diamond ring . . .LOL!!
Wow, I would have to discuss it with Santa. We have a "What-if-we-won-the-lottery plan", but only a million would require a different plan, but I'm sure getting out of debt would be #1.
Name one weakness of yours (confession is good for the soul).
(PASS)
If you could live anywhere at all (and take all your loved ones with you), where would you go?
Hawaii – hands down, let's pack, don't forget the dog . . . what are YOU doing, get in the car already!!!
Strange Talent? Can you juggle basketballs, put your legs behind your head or perform some other strange feat?
Okay, but it is STRANGE. Making hamburgers. I know, right? Who cares. But it is the one thing I am known for at family reunions and cookouts at my house. I have a gift when it comes to making perfectly round shaped, with stand up flat edges, beautifully hand-crafted hamburger patties. They look like the were made in a hamburger press. . .no lie.
(NOTE: This is not one of mine. There would be no cracks on the edges like in this photo. I guess no one is very impressed, they have never taken a picture. Ha ha ha !)
What's something you consider yourself to be good at? (Don't worry, it's not bragging, it's acknowledging a God given gift).
Photography? I don't feel like I am very good at it, but I like it and I really love editing photos.


What is one of your favorite things to catch a whiff of?
Leaves burning . . . it normally means fall is coming and I love it!! Tootsie Pop playing in the leaves around 1998.
When you leave a social gathering, do you wish: You would have talked more or You would have talked less?
(PASS)


If money wasn't a factor, what stores would you shop in?
Probably the same ones I shop in now. I'm not a huge clothes hound, or fashionista or anything. I might have a Mustang GT, but you really only have to buy that one time, you wouldn't go to the car dealer every day or anything.



What is your greatest fear or strange phobia?
Being trapped. I realized this at camp. My house has a huge amount of windows and is very open. At camp, there were no windows in the dorm where we slept, and I had to get up and go in the kitchen just to look outside every morning, before I could get ready. AND I like to have an escape route to get out of the covers on my bed . . . you know like at least one toe outside the covers . . . just in case. . . what I don't know. Aliens could invade and I could be stuck trying to get out of the covers. It's crazy I know. LOL!
What is your greatest accomplishment?
My children, the best thing I ever made. LOL! This is at the bus stop in 1998 after L & T came to live with us!

What are your favorite animals?

(PASS)

Are you a hopeless romantic?

(PASS) I mean . . . .no.

What movie or book character can you most relate to?


Whoa, really? Definitely NOT Scarlet O'Hara!! I haven't really thought about it, not enough to pick someone, anyway. I don't know any books or movies about a over-the-hill mom and blogger who has a Food Network obsession AND hates to cook. LOL!