Welcome to Holiday Interviews with Mrs. Claus. This is my first interview of the year, and I am so excited!
I guess I should start by telling you a little bit about our guest blogger, Kerry. This just happens to be a real person that I know. She and her family were part of our church family for many years until they moved to Texarkana, AR. I don't know how you all feel, but when someone is part of my church family I just can't stop loving them, you know?
Anyway, Kerry writes a blog called "Daughter of I Am" or you can follow her on facebook and it has become my newest Daily Devotion blog. I love it when a new post comes up on my blog list from her. When I read her posts it reminds me how much God loves me, so for that, before we get into it, I want to say, "Thank you!" I just love it!
MC: Now down to business, first question . . . the question everyone always asks me about my blog. . . Why is you blog called "Daughter of I Am"?
KERRY: Several years ago, I was in the middle of wallowing in my past sins. I began whining to God that no one would like me if they knew who I am. Then I began listing all the things that I considered myself because of things I had done years before. It was at that point that God stopped me and spoke to my heart. He said, "NO! You are not the things of your past! You ARE the daughter of the Great I Am. You are the princess of the Most High King!" From that moment, I have known myself as a Daughter of I Am, therefore it was the natural fit when I started my blog.
MC: So the remaining questions in this interview are about

Christmas

! YAY!!
The food is always amazing during the holidays. We start the food on

Thanksgiving

and it seems to keep going until January. There are pot luck dinners and parties galore. Someone always has something at

Santa's workshop

to sample.
So what is your specialty to cook/make/bake at Christmas?
KERRY: I love cooking for the holidays! I guess my specialty, or at least what I am asked to bring to family meals, is Chicken and Dressing. However, if you were to ask my niece, it would be

sugar cookies

... that is what she requests from me.
MC: Would you be willing to share you sugar cookie recipe?
KERRY: Any

sugar cookie recipe

will work, the secret to mine is that I always color sugar to match whatever holiday or event and roll each cookie in that (for even more sparkle, brush a little egg white on the top, and add more sugar) before baking them. I have even used slice and bake if I am short on time.
What is your absolute favorite Holiday food to eat (even if you can't make it)?
KERRY: Martha Washington Candy... I can make it, but I like it best when it is made by someone else.
MC: I am almost embarrassed to say this . . .but, what IS Martha Washington candy?
KERRY:
Martha Washington candy
is a mixture of eagle brand, confectioner sugar, butter, vanilla, nuts and coconut formed into balls and dipped into chocolate... this has been my favorite since I was a child.
MC: For

Christmas dinner

do you have ham or turkey, (or something totally different)?
MC: I love Christmas traditions! Christmas decorations, hanging stockings, lighting Christmas candles and playing

Christmas music

always puts me in the spirit for Christmas.
What is your absolute favorite Christmas tradition . . . the one where if you could only have / do this one tradition it would be enough for you to have a wonderful Christmas?
KERRY: Wow! We have several... I guess my favorite is watching Christmas movies (old and new) while decorating my house for the holidays. We begin the week of Thanksgiving.
MC: Do you send

Christmas cards

? Why or why not?
KERRY: Yes, I like to get them, therefore I send them! There is just something special about receiving mail. It lets others know that you are thinking of them.
MC: What is the typical holiday routine at your house? You know,

Christmas Eve

at home, Christmas morning at your mom's or Aunt Betty's . . . what do you guys do?
KERRY: Christmas Eve afternoon is at my sisters, and

Christmas Eve night

at Jason's mom's.

Christmas day

is at home, with anyone who wants to join us.
MC: I hear that a lot from people, that Christmas morning is at home, and that other people are welcome to come over, but most people like to stay home and enjoy Christmas with their family.
MC: What is one Christmas tradition that you used to do (maybe when you were a child) that you don't do now?
KERRY: When I was a child I would receive fruit and nuts in my stocking, along with some other small goodies (either a toy or candy). My kids receive DVDs, small toys, and candy in their stockings... I guess Santa upgraded???
MC: What are you doing this year that you haven't done for past Christmases (if there is something new or different)?
KERRY: This year, as a family, we are going to go through some of the Old Testament Prophecies and show where they were fulfilled in the New Testament. We will do this during our
family devotion time
each evening before the kids go to bed. Nothing long or dramatic, but just pointing out the facts as proved in scripture to our children.
MC: Gifts are so great, but I love to give gifts more than receive gifts. I love to watch people's faces light up when they open a gift.
What is the most sentimental gift you have either received or given?
KERRY: A few years ago, my mom gave me one of her diamond rings. It was a ring that she bought when I was a little girl. I remember going with her to the store to pick it up. It has always been my favorite. She didn't give it as a Christmas gift. We were visiting, and I was re-telling the story of going with her to get that ring. She took it off her finger and gave it to me. Her generosity overwhelms me at times.
MC: What was the biggest dud gift you have ever given someone? You know that one gift that just didn't go over like you thought it would.
KERRY: When one of my nieces was 12 I bought her several

Barbie Dolls

, and the accessories to go with them. I thought they were very cool, and was so excited about them. When she opened them, she just chucked them to the side and told me she had outgrown barbies.
MC: What is the best toy or gift you received as a child (that you remember most fondly)?
KERRY: When I was about 8, I woke up Christmas morning sick. My gifts that year (the ones I remember) were a record player with a "Dumb Ditties" album and a cowboy hat. I remember sitting around wearing my hat, still in my pajamas, and listening to my album all day. Occasionally, I will hear one of the songs from that album, and it always makes me think of my first record player.
MC: I just love surprises, don't you? Mrs. Claus is one nosy lady, so if you surprise me, you have really accomplished something in my book! This is why Santa's job is sooo hard.
What is the best surprise you EVER received on Christmas?
KERRY: I am hard to surprise, and I usually have all my gifts figured out long before Christmas. One Christmas however, Jason managed to surprise me with a Bombay Chest for my front foyer. He had it hid at a neighbors house until Christmas morning. I was totally caught off guard, and thrilled!
MC: Would you rather be the

surprisER

or the

surprisEE

on Christmas morning and why?
KERRY: I love to be surprised, but I also love to surprise others. It is so rewarding to see the expressions on the faces of those you love when you manage to really surprise them.
MC: Fall is MY absolute favorite season, I love Christmas, but here in beautiful Magnolia, AR it's usually fall weather at Christmas.
Where you live is winter the season when Christmas comes?
KERRY: I live in Texarkana, AR so it is usually fall weather. However, I can remember years when it has been winter, but I can also remember a couple when it felt more like summer. Unfortunately, I have had very few

white Christmas

' in my lifetime.
MC: Do you want snow at Christmas? Why or why not?
KERRY: I would love snow at Christmas... Probably because I love old Christmas movies and songs, and it always snows at Christmas when

Bing Crosby

sings about it. ;D
MC: Okay, you would think that Santa would always be at OUR house, but actually we are coming to the end of the Santa tradition, because Santa's little helpers are all grown up, but when they were smaller Santa and I had a lot of fun playing Santa . . . . wow this is turning into a weird question . . .
Do you play Santa for your children? Why or why not?
KERRY: Santa still comes to our house.... not just for the kids, but for Jason and I as well. Now I should say, that my kids are very aware of the meaning of Christmas. They know that Santa was a real man, St. Nickolaus. They also know that Daddy and Mama are the real gift givers, but it is fun to pretend that Santa is coming.
MC: I just love blogging! I don't know if you feel the same way, but it is so good for me. Just a few questions about YOUR blog and then we're finished.
How long have you been blogging and why do you do it?
KERRY: I began blogging in March of this year. Prior to that, I had never even read another blog. I woke up one morning with God leading me to start my own blog... I even knew the name of it. I had to research blogs a little, but posted my first blog that afternoon.
MC: How many posts do you typically do per week?
KERRY: I do not have a regular blog schedule. I just share whenever God lays something on my heart. My blogs are very random, but they all focus on what God is teaching me in my life. Hopefully, that helps others as well.
MC: Do you advertise on your blog? Why or why not?
KERRY: Since I would have not control over what ads appear, I choose not to advertise. I would hate for something to pop up on my page that as a Christian, I do not agree with.
MC: Do you have anything special you want to share with readers?
KERRY: I would like to thank Mrs. Claus for inviting me as a guest blogger. The questions were a lot of fun, and really made me dig deep in my memory banks for some of the answers.
The most important thing I could share would be that Jesus loves you. No matter what you have done, are doing, or even will do in the future, He loves you. It is not just about getting saved... He wants you to grow ever closer to Him. He desires to have a relationship with you. One of my favorite scriptures is Psalm 37:4 Delight yourself in Lord, and He will give you the desires of your heart. It is true, I am living it. I encourage you, spend time reading God's word, listening to God's word, speaking God's word, and I promise your life will never be the same.
I hope you all have a very

Merry Christmas

, and a New Year blessed beyond measure.
MC: Thanks, and Merry Christmas to you and your family as well. Kerry, thanks so much to you for doing this interview!
Now all of you readers, go and check out Kerry's blog, I promise you will be inspired for the whole day.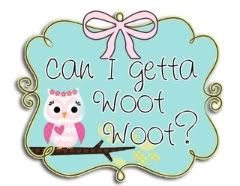 Don't forget it's Woot! Woot! Wednesday too!