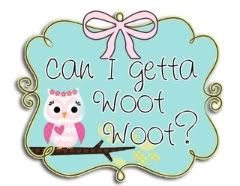 Woot! Woot! Bekah's my guest blogger today, on Woot! Woot! Wednesday! How cool is that? (Yeah, I know I planned it that way.)

Let me introduce you to my friend Bekah! Bekah and her wonderful family are part of my church family, and you know what THAT means. . . . yup, I love her! Bekah's little girl is just the absolute cutest and her husband is our Music Minister. We have gone to church with her husband and his family since 1992 or so when we first joined Immanuel Baptist Church. Back then, Josh (Bekah's husband) was in Jr. High School. Wow, you're old! I know, right?
The funniest thing to me was when I was introduced to Bekah with Josh, and they said, This is Josh and Bekah. LOL! For those of you who don't know, Skittles and Reese's are really Josh and Becca at Santa's house. So this was just funny to hear another Josh and Bekah. Maybe it's just me . . .oh well.
Besides being the author of Bizzy B's blog, she is also a very creative and talented seamstress, making clothes, bags and hairbows and really all kinds of things. AND she is already booked for Christmas gifts and can't take anymore orders that have to be delivered BEFORE Christmas. But after Christmas orders are welcome!
AND on top of all this she is a talented artist! She draws and paints . . . and this also makes me laugh, because this is what Reese's (Becca) does too! So many parallels to our families, no wonder I love her.
MC: So let's get started. . . . When I first contacted Bekah about doing the interview, she said that she would LOVE to!!
So I have really always wondered this myself . . .Why is your blog called "Bizzy B's"?
BEKAH: I get asked this a lot and it's not because I'm "bizzy" all the time...LOL... My late grandpa, who I was very close to, nicknamed me from birth "Queen Bee" and when Shelby was born, he named her "Little Bee". I created my blog before Shelby so my blog name originated from my nickname & the fact that I'm a busy-body. My blog name now has extra meaning b/c it is in remembrance of my grandpa, in honor of my daughter and because I"m a "Bizzy-Body" LOL.... Oh and the "B" stands for my name, Bekah :)...
MC: The food, the food, the food. . . .
So what is your specialty to cook/make/bake at

Christmas

?
BEKAH: Since our Christmas "routine" has changed since the passing of our grandparents (Josh's grandma & my grandpa) we try to mix things up so we've started having Christmas at our

home Christmas day

b/c of Shelby and it's usually, "Bring your favorite dish or what you like"-style so really all I cook that's "Special" is that Josh REQUIRES Mac-n-cheese for Christmas morning breakfast (childhood tradition of his) and so I make that now and I also make my mom's famous sausage balls :).....mmmmm
MC: Okay, Mac and Cheese for breakfast. LOL! That is unusual, but very sweet that you continue his childhood tradition. Now it will be Shelby's too.
Okay next up . . . What is your absolute favorite Holiday food to eat (even if you can't make it)?
BEKAH: I don't really have a favorite food...i like my mom's sausage balls, my late-grandma's gibblet gravy that she gave me the recipe for & secrets to make it yummy & I like Josh's mom's chicken-n-dressing...OH and I LOVE Mullin Mix

Apple

Cidar drink :)
MC: I love that Apple Cider mix too, I will have to remember to get some this year. Would you be willing to share your mom's sausage ball recipe?
BEKAH: YES!! I'D LOVE TO!!
Sausage Balls:
2 tubes of Mild Sausage or if you like spicey like me use the spicey kind! the maple flavored kind is good too! I prefer it best!
1 package of shredded cheese
Bisquick
In a large mixing bowl, pour a cup of Bisquick & your package of shredded cheese. Mix it together w/ your hands, you may need to add more Bisquick as needed and then add 1 tube of your sausage and mash the Bisquick Cheese mix into the sausage. I like lots of cheese in mine so I stuff cheese into my sausage as i form it into balls. Now you will take however the size of balls you want and form the sausage into "sausage balls" and place them on a greased cookie sheet. Cook them at 350 until they sausage is done and voila! Sausage balls! :)
MC:
For

Christmas dinner

do you have ham or turkey, (or something totally different)?
BEKAH: We have Coca Cola ham, some type of turkey whether it's fried of traditionally cooked and we have Chicken-n-dressing so we HAVE IT ALL!
MC: Would you happen to have that recipe handy?
BEKAH: Sure!
Coca Cola Ham
get your ham of choice, any size
1 liter of Coca Cola (we sometimes use a liter of Coca Cola and Dr. Pepper but it's your choice if you like some extra sweetness)
Brown Sugar
Any other spices you like to use normally
Take your ham and place it in a large pan that is covered in foil long enough to wrap around the ham & make sure the pan is deep enough for the liquids and ham. Take your THAWED ham and rub it down w/ your spices and brown sugar and then just pour your Coca Cola &/or Dr. Pepper over it and throw it in the oven for the required time. From time to time baste the ham w/ the juices in the pan. :) Easy enough huh? ! :) comes out YUMMY and SWEET!
MC: I have to admit all these interviews and recipes are really getting me into the holiday spirit. I'm sure my readers will appreciate all these recipes.
BEKAH:
Aww good! LOL I also have those as well as my chic-n-dumplins posted on my blog under "Yummy Recipes"
MC:
What is your absolute favorite Christmas tradition . . . the one where if you could only have / do this one tradition it would be enough for you to have a wonderful Christmas?
BEKAH:
Since I can remember my family always had this special box that my grandmother made out of tin-foil and an
old Christmas card
that's a dog & each year someone different got "The Dog Box" and it always has a very special gift in it. Seeing the "Dog Box" each Christmas is enough for me, even if I'm not getting it!
We always watch

National Lampoon's Christmas Vacation

sometime before and during

Christmas

! It's a Kee tradition!
Another thing that "is enough for me" is going to see the excitement on Shelby's face this Christmas! She's going to realize the excitement this year and I can't wait!
MC: Most of the time it really is the simplest of things that make Christmas special.
Do you send

Christmas cards

? Why or why not?

BEKAH: Unfortunately, no. I never have time but as bad as this is, I LOVE getting them and I save them and if they are pictures I put them on our fridge! :)
MC: I love getting Christmas cards too, and I'll have to post my Christmas Card project for you all sometime this year to show you what Mrs. Claus does with her cards at the end of the year.
What is the typical holiday routine at your house?
BEKAH: Christams Eve is usually w/ my family in Texarkana where we sometimes go to their Candlelight Service but since Josh is the Music Minister and we had a

Christmas Eve service

, my family comes over

Christmas Day

now.
We spend Christmas morning at OUR HOME b/c we feel that is our time as a family of 3 and special time for just us and Shelby. That is set in stone! Whoever wants to come can come over but we do not leave Christmas morning.
We usually spend Christmas afternoon at Mammy & Pappy's (Josh's parents) and if Josh's brother's family is in we spend time w/ them if not we usually spend the weekend before w/ them.
MC: Santa and I have only missed Christmas morning at home a very few times, because we were at my mom's or his mom's house. But we made that rule pretty early on too. Christmas morning was at home.
What is one Christmas tradition that you used to do (maybe when you were a child) that you don't do now?
BEKAH: There's not much we don't do that I didn't do as a kid except there are just less people now b/c they've all gone Home to be w/ God but we still keep the family going and growing! It's different not having our siblings w/ us, like most family, to wake up early with and wake mom & dad up jumpin on their beds but other than that, we keep the normal Christmas we know going. :) Somehow we just make it work!
MC: What are you doing this year that you haven't done for past Christmases (if there is something new or different)?
BEKAH: I'm not sure yet what we're doing different, if anything. I'm not big on change so we try to keep it the same but this year for Thanksgiving we are all going camping and eating at Bryce's Cafeteria instead of cooking! LOL...
MC: Wow THAT is a different tradition. Around here it is usually pretty mild weather, but for some of you in the north, that might seem weird.
So now we are going to switch gears and start talking about gifts.What is the most sentimental gift you have either received or given?
BEKAH:
BOY THESE ARE TOUGH QUESTIONS!! I cannot pin-point one specific gift given or received!! I think for us, the gift of family and our love for one another is the most important thing we give and receive. Having Christ in our hearts, the love of one another & Shelby in our arms are the best gifts we could ever receive!

MC: That's so true that the things you remember most are not the gifts but the time spent with family.

But I still have to ask what was the biggest dud gift you have ever given someone? You know that one gift that just didn't go over like you thought it would.

BEKAH: LOL....wow....I would have to say I haven't given or received this but my mom has. She received a fake flower arrangement off of my grandmother's dining room table THAT SHE bought her years ago. LOL...
MC: Wow! Seriously? That IS hilarious! I AM a big regifter . . . but I try to be responsible. . . LOL!!
.
What is the best toy or gift you received as a child (that you remember most fondly)?
BEKAH: MY BARBIE DREAM HOUSE! IT WAS AWESOME! I had a draw-string elevator and everything! I will never forget it! However, it's a far cry from the

Barbie toys

now! LOL
MC: Wow Mrs. Claus had a Barbie Dream House with the draw-string elevator too! Yeah, and now Barbie has a plane, a Ferrari and even a video camera in her chest. OMGosh!
MC: That's okay . . . would you rather be the surprisER or the surprisEE on Chrismas morning and why?





BEKAH: I love being the Supriser. However, I rarely pull it off! I love seeing the joy and surprise on my family's face! :)

MC: That may be why you can't remember any surpirses because you like to be the one to do the surprising.

Fall is MY absolute favorite season, I love Christmas, but here in beautiful Magnolia, AR it's usually fall weather at Christmas.
Where you live is winter the season when Christmas comes?

BEKAH: Nope... Fall is the season, unless it's ice! LOL Here in good Ole Magnolia, AR You and I know all too well you wear flannel PJ's Christmas morning, T-shirt and shorts in the afternoon and your flannel Pj's again for bedtime!

MC: You know that's right. AND a lot of my friends have started wearing the sleep pants and t's all day on Christmas day.

Do you want snow at Christmas? Why or why not?

BEKAH: Not here. I like to see it other places but we don't get "pretty" snow.
MC: Okay, we are coming to the end of the Santa tradition, because Santa's little helpers are all grown up, but when they were smaller Santa and I had a lot of fun playing Santa . . .
Do you play Santa for your children? Why or why not?
BEKAH: Shelby is too young to know about Santa but we are going to "Play Santa" but not over-do it.
MC: I know a lot of people can get carried away with it. Well since you haven't played Santa yet this I you have never been caught playing Santa . .

BEKAH: Not yet! LOL I know this day will come! I NEVER caught my "Santa(s)" growing up so he's real to me!
MC; I just love blogging! I don't know if you feel the same way, but it is so good for me. Just a few questions about YOUR blog and then we're finished.
How long have you been blogging and why do you do it?
BEKAH: I have been blogging since August 2008 and at first I blogged as a virtual diary or memory-book but now it's turned into my business diary, personal diary and memories of our family and Shelby as she grows up. I blog for me and to be a witness or help for others. I am not a public speaker so this is my way of "speaking". My blog is TOTALLY my opinion and about my life and how I feel inside and outside my head! LOL
MC: How many posts do you typically do per week?
BEKAH: I do any from 1 to 4 a week. It depends on how "Bizzy" I am and if I have time. I try to save up posting information or things I find cool or worth posting so I can draw it out and not post all my pics and thoughts in one post.

MC: Do you advertise on your blog? Why or why not?

BEKAH: I do not advertise but I do promote. I don't like to have advertisements on my blog b/c they are distracting but I do like to promote other sites that I find worth talking about.
MC: Do you have anything special you want to share with readers?
BEKAH: I do not blog for fame, numbers or recognition. I blog b/c it's my way of documenting how I feel in this time of my life and days. I find blogging theraputic and something I can have printed and let Shelby read one day about her life and our lives.
MC: Wow! Thanks again Bekah for allowing my readers (and me) to peek a little closer into your world.