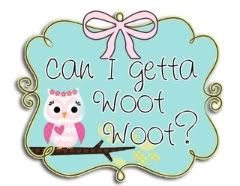 If you don't Woot Woot, then you should check out Bekah over at Bizzy B's!
Can I just send out a "Woot Woot!" to the wonderful ladies (and 2 dudes) I work with every day? Yeah, I know one of them is my husband. Some of them overcome some huge obstacles just to come to work. This makes me especially grateful for me job and the team we have now. They are doing an awesome job back there in support and the ones up front in our department . . .

Woot! Woot!
Okay, so if you don't make toys in Santa's workshop . . . what in the world do you do over there? Great question.
At Santa's workshop we have five ladies who talk to customers 8 hours a day and help them with their computer problems. Not a very glamorous job. When customers have questions about the software that we develop or anything computer related isn't working, they call our office. The two girls in my department answer the phone and call customers every day, posting payments and updating customer's software. There is another lady that works with Santa in the programming department and there is one other dude who is the marketing director. He really has a tough job, trying to sell new systems and keep the customers we have happy.
Sometimes it's easy to forget when you are caught up in all the "work" that

EVERYBODY

has junk they have to deal with when they are not at work. Whether it's children or spouses, illnesses or just family that they have to deal with. Each one manages to drop it at the door and treat our customers great!
So today, I am especially grateful for my inside-environment-controlled-sit-down-padded-chair-internet-accessible job. In these times with so many people losing their jobs or looking for work, I thank God that we are still working.
Hallelujah! Thank

God

! And why?
Because He's good, because His love lasts.
But who on earth can do it—
declaim

God

's mighty acts, broadcast all His praises?
You're one happy man when you do what's right,
one happy woman when you form the habit of justice. Psalm 106:1-3 (The Message)