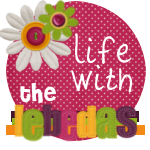 (*Beep*) Thank you for visiting like Christmas every single day's blog. I'm sorry there is no one here to write this blog today. Mrs. Claus is over at Life with the Lebedas today writing a guest blog spot for Jennifer. Your subscription is very important to us. Please take a minute to read her guest post and check out the great blog she writes. Have a blessed day and please come back tomorrow. (*Beep*)
Hee hee! That's right, I am over at Jennifer's blog this morning laying out some pretty straight from the hip truth, so pop on over and check it out. While you are there leave her a comment and let her know you stopped by. I love her blog, she always has something going on
(new giveaways every week)
and you HAVE to check out her adorable kiddos. She asked me to write a guest blog post and well, she was so excited she just couldn't wait to post it.
Guest Blog Post at Life with the Lebedas
(Go ahead don't be afraid . . . check it out)
For all my Tuesday buddies . . . check out Jennifer's blog and I'm asking you to follow her blog today instead of me. Thanks so much!!