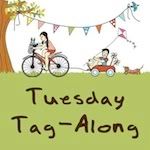 Hey there Tuesday Tag-Along Friends! I want you guys to check out a new blogger, L. I introduced her to you in my
Mud Bowl post
last week. She has created a new blog, and I would love for you to check out her
newest post
and get in on the ground floor of this exciting new photographer.
I have known L, since she was born. I tried to tell you that Mrs. Claus is OLD! It's true! I have watched her grow up and I love her so much.
At a Crossroad
Check it out!! Oh . . .and happy hopping!!!