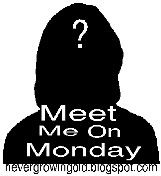 Questions:
1. What is your favorite all time movie?
2. How often do you go over the speed limit?
3. What really gives you the creeps?
4. What is your favorite snack?
5. Would you rather be a dog named Killer or a cat named Fluffy?
1.
2. Daily . . . but I'm working on it.
3. Hmm. I don't know. Could be mud. LOL!
4. Popcorn
5. How about a dog named . . . Fluffy-Killer? LOL!!! I hate cats, just sayin'.
Check out more posts!