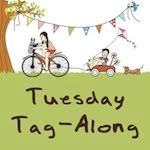 Okay! Okay! I admit it people .. . I am hooked on this new Hanson song. . .
There! I said it! Honestly, I never really liked Hanson because "Mmm Bop" was popular when my oldest daughters were first listening to music and they drove me nuts with that song. But I have to admit this is a really fun song and a cute video too!
I have watched this video about 50 times so far. I put it on my iPod and I can't get it out of my head. It just "sounds" fun. . . but if you listen to the lyrics they are kind of depressing, to be such an upbeat song.
What song is stuck in your head?