Did you ever say something you believed, and then someone showed you something that made you reconsider? I said, "I don't believe in ghosts."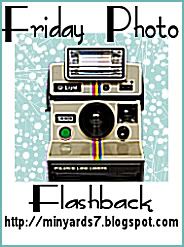 So for flashback Friday, here is what Santa showed me.
This is a picture of my husband's ex-wife. Really?
Yes, really. I am submitting this picture to see what you guys really think ... not of Santa's ex-wife, but of the television in the background.
I don't know how well this shows up on your computer, but on the actual photo, you can see a woman's face in the television screen. Santa assures me HE took this picture, and that the television was off when he took it. He and his whole family were shocked when it was developed to see this image in a tv that was not on. I know there is like a huge scratch down the center of the screen, but on the actual photo it's just a bend and not a scratch. This was from before 1985, because that is when Santa and his first wife divorced, but I am not sure of the year.
FACT
I know the person who took this photo.
This person is of sound mind.
This person affirms that the television in this photo was off at the time the picture was taken.
I have never seen a "real" ghost.
I have never met Santa's first wife in person (even after 21 years of marriage).
Ghosts are mentioned several times in the Bible.
This television was not brand new, or free from problems. It would come on sometimes at 3:00 a.m. full volume and wake the whole house.
Skittles and I spent some time on-line yesterday looking up ghosts in a tv and found very few instances or pictures on-line. (Skittles is my research assistant. Anytime we have a mystery we are the ones in our family digging for the answer. He is also my genealogy research person. Always looking for the truth.) I wanted to find some kind of electronic phenomenon which would debunk the whole image in a powerless television site, but I didn't find one.
Anyway, there you have it, evidence for your review. And HAPPY FRIDAY!! So have YOU had an experience with a haunted television, or haunted house? Comment and let me know.