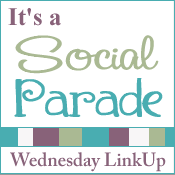 Come join "It's a Social Parade Wednesday LinkUp"! All you have to do is post about this event and simply add the first person on the list! You can go visit however many blogs you'd like that is on the list as well!
Come join in and find some new blogs! No pressure. . . just a way to get more visitors.
Here's the deal. . . I blog about first one thing and then another. Books I've heard/read, music I like, photography, grand-kids, great-grand-kids, teenage kids. I'm a pretty straight shooter. Here are some examples of the stuff I write, check it out and see if you want to follow. If you don't that's fine, I don't mind.
Don't follow blindly, check it out and then if you like what you read, you can follow. I'm
not your typical Mrs. Claus
. Leave comments, I accept good and bad comments, I'm an equal opportunity blogger. LOL!!!