What if. . . . what if I was the next Jonathan Acuff, or Stephen King . . . (*shakes head as if to tell herself "NO, no those two don't go together."*) . . . what if my blog award was the greatest thing to hit the blogging community and everyone wanted one and then Ellen wanted to interview me on her show . . . would that lead to Jay Leno?
(*snaps back to reality*)
Okay people. . . for real. . . .first of all I AM NOT DELUDED, well I, . . . may be, but let's just go with no for now. I have just successfully stopped following all the giveaway blogs I had joined last month. I thought what a cool thing I had found when I saw you could win free stuff. Yeah, the part I missed was me and 10,000 of my blogger friends would all be competing for the same prize. Not as bad as lottery odds, but still slim to none that I would win.
I still have photography blogs that I follow and I still enter contests (photography contests) but without valuable prizes. (Okay, some have valuable prizes, but most just have the good ole joy of winning and the fun of competition.)
I also realized I was chasing Blog Awards on my blog. I love those little 200 x 200 graphics that say someone thought about me when they were trying to "now pass this award on to 15 bloggers you feel deserve this award too". Okay, I wasn't fooling myself into believing that these awards were real, I knew they were glorified MySpace bulletin posts with a twist. But I was serious when I decided to create a one-of-a-kind blog award of my own.
The whole reason I started blogging was so I could form complete sentences again in practice for delving back into the software documentation I am so NOT famous for and really have something a user would be able to read. After doing accounting/bookkeeping for months without having to write documentation you get out of the habit of working with words, and you just think if I could make one more macro/formula this spreadsheet would practically fill in by itself. (I know, right?. . . it's a sad, sad world inside my brain sometimes.)
I have enjoyed writing for most of my life. My mother is my biggest fan, just like most writers, but I hate reading. Is that weird? (*shrugs*) <----THIS is my favorite thing to come out of blogging/myspacing/facebooking/texting/chatting online and that is the parenthetical action that goes with what you are trying to communicate. I LOVE THIS! (*smiles and looks fondly at the little arrow thingy pointing, and thinks "cute"*)
I probably use it too much, but the little smiley faces or emoticons just don't say quite what I was trying to get across, so these little "PA's" (*thinks "Yeah, that's right, I just made that up."*) really come in handy when you have something to say/show.
So, what was I saying? oh yeah. I love to write, and really you must at least like to write even if you don't like-like it, because you write a blog, right? (*smiles to herself for the write/right thing*) I really just thought it would be a great way to bring to the top that blog post you really love.
. . . . the one-of-a-kind blog award is available to YOU if you have something worth reading on your blog. I'm serious, it can be ANY post about ANY thing. Link up so that I can read it. I don't hate reading your blogs, but I hate reading fiction .. . now you know THAT'S weird.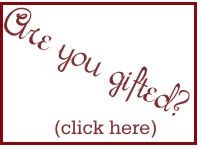 FRIDAY IS THE LAST DAY TO ENTER!!!