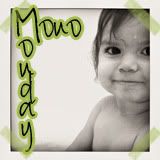 Mono Monday this week is about motherhood, and this is one of the shots from our bowling tournament weekend in Memphis/Southaven.
This little guy was a real trooper this weekend. With all the getting in and out of the car seat and stroller, he was a perfect angel and in such a great mood. He deserves a post all to him self today. Way to go P-man!
This IS motherhood to me, the sunblock, the hat, the stroller all so P-man can join in the fun of Putt Putt golf with us.