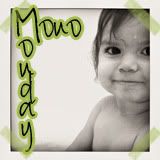 Black and White Moon, is a tough one to capture. This was my first attempt. It looks like it would be easy a big yellow moon against a black sky . . .but it doesn't play out like that on the camera.
But after a few more attempts with my Sony Cybershot, I was able to get one that looked pretty clear.
You can really see the outline of the moon, even in black and white. (*winks at the camera*). Happy Memorial Day! Happy Monday!